By leveraging cutting-edge technology, B297 Göppingen implemented temporary LED VMS units with advanced features to manage congestion, variable speed detection, re-routing, and more.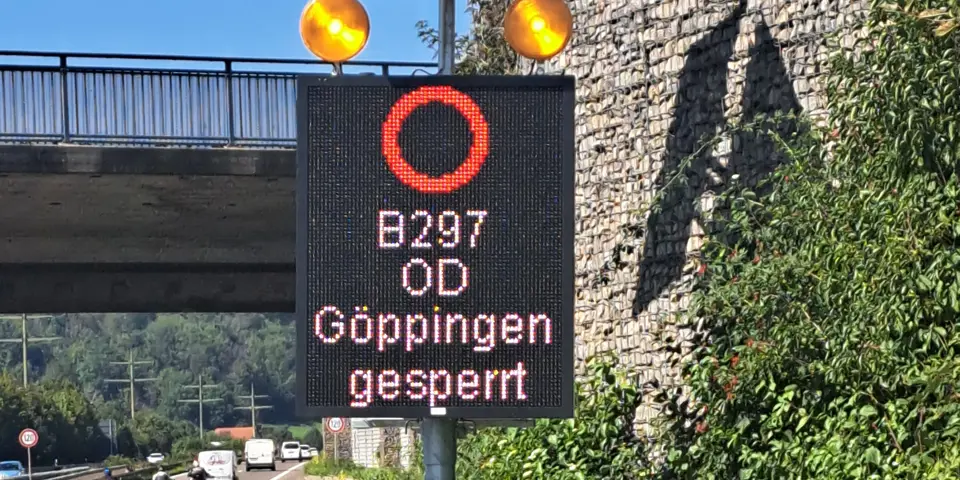 The LED VMS units delivered to the project consisted of essential components, including a foundation, telescopic mast, LED display, solar panels, energy system, and communication device. Notably, the assembly was streamlined, involving crane installation in the folded transport position and extension with a battery screwdriver, eliminating the need for extensive on-site cabling work.
Innovative Energy System
One of the standout features of the LED-VMS units was the innovative energy system, comprising only three key components: a pair of solar modules (2x 415 W), a power storage unit, and a smart solar controller. The saddle-shaped arrangement of the solar modules allowed for an east-west orientation, ensuring consistent energy generation throughout the day. This strategic alignment, coupled with the modules' 360° rotatability and a 45° tilt angle, facilitated self-cleaning, reducing maintenance costs significantly. The efficient energy system eliminated the need for frequent battery changes, enhancing the overall sustainability of the solution.
Customization for Special Requirements
B297 Göppingen's LED-VMS units were tailored to meet the specific requirements. The implementation involved a specialized LED variable message sign and a solar module construction designed to address unique challenges. Live operation software with basic functions was integrated, ensuring real-time monitoring and control.